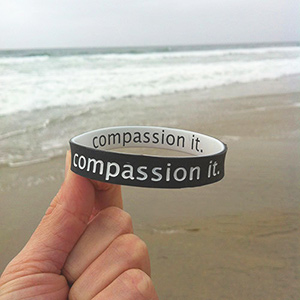 According to Paloma Gouveia, "the thing we need most now in the world is compassion."
A Brazilian student in the groundbreaking Social Entrepreneurship (SE) certificate program at SDSU's American Language Institute, she was among 20 classmates who spread compassion during the summer semester.
Through the selling of Compassion It bracelets, the SE students raised $1,000 to help the following individuals make their dreams become reality:
A farming woman in Armenia growing fruits and vegetables
A single mother in Colombia developing her own clothing shop
A fisherman in the Philippines buying additional nets and accessories for his boat
A woman in Kenya purchasing a dairy cow
"If I explain to someone what social entrepreneurship is, I will use the Compassion It fundraiser as a perfect example," Gouveia said. "You care about others, think about good actions, and share all the love you have. In doing so, you help others live their lives in a better way."
Sara Schairer, founder of San Diego-based Compassion It, provided the bracelets at a reduced cost for the SE students' fundraiser. Her organization is a nonprofit global-social movement that inspires compassionate actions and attitudes.
The Compassion It bracelets are intended primarily for fundraisers. At an affordable cost, communities, schools, businesses, and even families can raise money using the bracelets,  influence positive behaviors through a pass-it-on ripple effect, and have an impact of peace and mindfulness that affects everyone.
All money for the initial purchase of wristbands is recycled back into Compassion It operations and programs, including compassion education, communication efforts, and, of course, producing more wristbands that will travel the globe.
The four gifts provided by the SE fundraiser were made possible through Kiva, a nonprofit organization whose mission is to connect people through lending to help alleviate poverty. Kiva enables individuals to lend as little as $25 to create opportunity around the world.
Students participating in the SE fundraiser were from Brazil, Columbia, Italy, Japan, Saudi Arabia, South Korea, Taiwan, and Turkey.
The Compassion It bracelets were black on one side and white on the other. Students began the day with the bracelet showing its black side. Once they performed a compassionate act, they would flip their bracelet from black to white. Compassionate acts included volunteering, providing food/money to a homeless person, helping an elderly person across the street, placing coins in a parking meter that was almost expired, sending someone flowers, and taking a fellow classmate to the airport, among other things.
"In the history of mankind, too many people just answer the world's problems by saying, 'who cares?'" noted Italian student Matteo Marchisio. "Now, social entrepreneurship gives a possible way to stop this thinking."
Kelly Shah, ALI social entrepreneurship program director, said the summer fundraiser took place for several reasons: providing students with social involvement, practicing English with a purpose, the business aspect of learning to pitch an idea, and having a real-life occurrence.
"We were looking for something outside of the classroom to provide a great experience for our students," she said.
The SE program focuses on creating businesses that solve social problems. A prime example is TOMS Shoes, which matches every pair of shoes purchased with a pair of new shoes for a person in need.
Students are each creating a project along social entrepreneurship lines. For instance, Gouveia enjoys photography and is putting together a website to sell her photos, with part of the profit being donated to animal institutions and zoos. Marchisio has developed a plan to sell a sci-fi book he has written with a portion of the income being donated to a foundation focused on fighting illiteracy.
"I studied TOMS Shoes and really appreciated the organization's attempt to help people," he said. "I am trying to fight a social disadvantage and help people who need it."