For students who attend the Semester at SDSU programs in any previous semester, this page provides you with information that you may need to access after the end of the semester.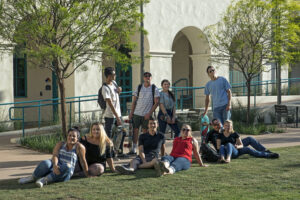 Official Transcripts

(updated May 8th, 1:02 pm)

An official transcript is NOT free, and currently, it is $15 per copy

San Diego State University has partnered with Parchment, Inc. to fulfill paper and electronic transcript orders submitted online. Please be aware that if all or part of your coursework was taken prior to 1987, only the hard copy paper option is available to you.

Begin your request on the Parchment, Inc.'s secure site to complete your order.

Official transcript requests submitted to Parchment, Inc. will be processed within 2-3 business days and will not be held for submission of grades or degrees, so please confirm all information on your unofficial transcript is present and correct before ordering; this includes grades, degrees, and if applicable, legal name.

To check the status of your order, log into your Parchment account and select the ORDERS tab in the upper right corner.

SDSU email address
If you are not continuing in spring 2023, your SDSU email account will be deleted 90 days after the last day of the fall semester. This includes your access to the SDSU Google Workspace, O365 account, and Canvas.

We cannot extend or re-activate your account unless you are enrolled in any SDSU program again.

Therefore, if you need anything in your SDSU email, your SDSU Google drives, please make your backup before the access is removed and your email is deleted

 SDSUid
Your SDSUid is a login you should remember for future uses. You will see in the next row, that your SDSU email account will be deleted eventually, but you will still be using your SDSUid to log in and order your official SDSU transcript. Please keep the username xxxx@sdsu.edu and your password somewhere you can remember.

(This portion may be updated with additional information later)

Program Certificate and Dean's List
First of all, the certificate or the Dean's list is NOT your SDSU official transcripts. They are issued by SDSU Global Campus for additional recognition of a student's academic performance. Please review the Program Certificates and Global Campus Dean's List for details.

Yes, if you are eligible, you can request to have one certificate and the Dean's list.

Due to the deadline for instructors to post grades being the end of the year, and the academic break between the fall and spring semesters is really small, I am afraid I will not be reviewing your request till early February.

Canvas

Some instructors will "turn off" the course in Canvas after the semester is ended. In addition, you may no longer access Canvas once your SDSU email account is deleted after 90 days of the last day of the fall semester.

Therefore, if you need anything in your Canvas courses, you should download them before they are removed from your Canvas.

I would strongly recommend all students do the following:

Download copies of your course syllabi and schedule
When final grades are posted in Canvas, download your grade book for each course, or take screenshots of your final grade in Canvas. (IMPORTANT! Grades in Canvas is not your official SDSU Transcripts)
Download any work you have done/submitted in courses if you would like a copy for yourself.

The above recommendations are for a "just in case" situation for all of you. Your home universities may or may not ask you to submit supportive documents when you are converting your credits. I have already explained this part in Interpretation of Grades.

I do not have access to any of your courses in Canvas, so if you need something and you do not have access anymore, just remember, Miffy never has access to your Canvas courses, to begin with. 🙂

Unofficial Transcripts

(updated Dec. 6, 5:58 pm)

An unofficial transcript is free to view and print. You can access it by logging in to my.SDSU

Links to an external site.

 and click the tile (square) Academic Records and View Unofficial Transcripts link from the left-hand menu.

For more details please refer to Unofficial Transcripts.

In addition, please review information in Alternative to Official Transcript in case you find it useful.

Overdue Balances
If you have any overdue balance in your account, such as tuition, Immediate Access fee, course fees, and utilities (on-campus housing students only), please be sure to make payments before you leave San Diego. You do not want to receive a bill from SDSU back home, saying you owe money and also charging you a late fee.

On-Campus housing students, you will need to log in to your Global Campus AccountLinks to an external site. to make payment for utilities.

For Immediate Access and course fees, such as lab or software, it is best if you can pay in person and get your receipts in person. The Cashier's office is located in Student Services West building, on the second floor, room 2536. They are open Monday – Friday from 9 am to 3:30 pm.
Request for an Enrollment Verification with or without your classes and with no grades, please contact semester.ces@sdsu.edu.
Follow us on Instagram to stay in touch!