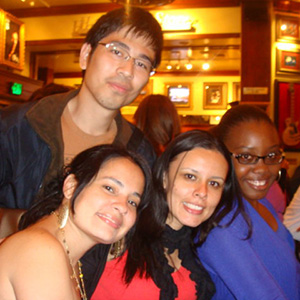 To "increase mutual understanding between the people of the United States and the people of other countries" the U.S. government created the Fulbright Program – an international educational exchange. Since its inception in 1946, over 310,000 students­ (chosen because of their leadership and academic standing) study, teach, research, and exchange ideas at universities around the world.
One of those universities, San Diego State University, also hosts the Fulbright Preacademic Training Program at the American Language Institute. The three-week program provides Fulbright grantees with a combination of U.S. academic culture orientation, English language training and field-of-study preparation, and accordingly the skills needed for academic study at U.S. institutions of higher education. The program is also designed to provide a basic understanding of current issues in U.S. society and assist Fulbright grantees in developing an understanding of U.S. social values, which is necessary for successful intercultural communication in their host communities. Fulbright programs are intended to promote not only students' professional development but also a mutual understanding among all peoples.
Program Specifics
Three weeks
All students stay in the same residential hotel. That helps them bond almost immediately.  They take public transportation to and from campus, thus learning to navigate that system.
The English refinement portion of the program consists of speaking, listening and writing lessons in the mornings.  We also schedule a library tour and computer application instruction.
Afternoon sessions consist of SDSU faculty lectures on topics such as the U.S. economy, cultural diversity in the U.S., the role of the media and an overview of social media and mobile applications, everyday geographies in a multicultural neighborhood, etc.; a grad/SDSU Fulbright student panel to alleviate some of the students' fears about what they're about to encounter; a volunteer opportunity at a local public library and science summer camp.
Various fieldtrips (to Coronado via ferry, SeaWorld, Disneyland) and a city tour expose the students to Southern California and help them connect with each other outside the academic environment.
A two-day, two-night homestay allows them to experience American family life first-hand.
All expenses (room, board, small allowance for incidentals and post-program travel) are paid for through the Fulbright Preacademic Program. During the week students buy breakfast and lunch on campus with a meal plan just like other SDSU students, and for evening and weekend meals they are given a cash allowance.
Fulbright Facts
Program was named after its sponsor, U.S. Senator James William Fulbright
It's one of the most prestigious award programs in the world
There are 144 countries involved in program
More Fulbright alumni have won Nobel Prizes than those of any other academic program
Famous Fulbright Scholars
Samuel L. Kountz
Thomas R. Pickering
John Lithgow
Hedwig Gorski
Sylvia Plath
Boutros Boutros-Ghali
Charles Kennedy
Renée Fleming
Joseph Heller
For more information, see ali.sdsu.edu/fulbright