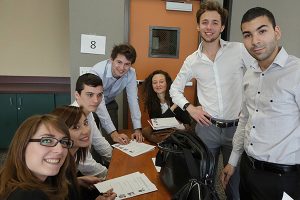 They came to the ALI in mid-January for the beginning of a seven-week stay at SDSU in the Semestre de Management Interculturel program. From here, it's on to China and Vietnam for these 68 French students before completing their five-month international education and business program.
By the time they get back in locales such as Paris and surrounding areas, they are well-prepared to head into the business world backed by an amazing education.
"We are learning so much about American culture," says Edgar de Rochecouste, a Paris native. "For French people in America, it's like the movies. We discover something new every day. We don't feel like foreigners. We feel like Americans."
While in awe of the size of SDSU, which is bigger than some of the cities they come from, the students find themselves fitting right into the environment.
"San Diego State is really great," says Paris native Allan Hascoet. "The weather is great; the campus is great. It's really clean here. This would be like a small city in France."
The students in the SMI program are enrolled in classes including American Marketing, American Cultural Perspectives, Management, American Law, Business Finance, Culture and Negotiation, and Multi-Media Instruction.
"They see our business practices and perspectives before going to China and seeing other perspectives," says Kelly Shah, program director. "This program gives them a head start for when they work with international clients."
A major part of the program is learning about American business by actually visiting high-profile companies in San Diego. Among the field trips this semester have been Qualcomm, KPBS, Target, Walmart, Whole Foods Market and the Naval Amphibious Base in Coronado.
After a recent classroom session, five students graciously gave up part of their lunch hours to discuss the SMI program. Their responses varied concerning their favorite field trip.
Suzanne Liu, Whole Foods: "It's really impressive. It's very different from France. Everything is in order and well-organized."
Valentin Marguerat, Qualcomm: "It's much different from France in the way they manage people. They look out for the well-being of their employees. In France, companies are not as much into the well-being of employees."
Hascoet, Whole Foods: "We don't easily find vegetables here. They give good attention to the quality of food."
Romain LaPooyade, Qualcomm: "I was impressed by the technology they create. I didn't expect it to be so technical. It's the future of technology."
de Rochecouste, Naval base: "It's really incredible to see the organization and how they keep the ships clean. The Marines were kind enough to show us everything and explain how they are willing to give their lives for their country."
Instructor Serge Guarino has been teaching in the SMI program for 25 years and travels with the students from San Diego to China to Vietnam. He notes students will sometimes enjoy their experience here so much that they forget to be in touch with their parents … who in turn remind Guarino to have their sons or daughters send them emails to stay in contact.
While students are immersed in the program, Guarino says they become better with their English command, are less shy to express themselves and become more confident. "They are being internationally exposed. They are getting a huge experience," he adds.
How involved are the students? They even have their own website.
Laura Varache, the program's coordinator, notes that the students greatly benefit from having American teachers.
"They are able to connect with professors from impressive backgrounds," she says. "They would not be able to meet these people by themselves. These students are living the American dream."