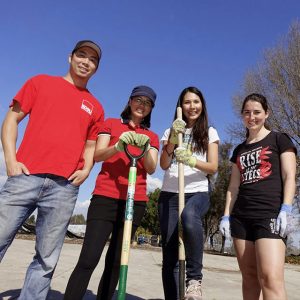 Serving the local community is an important part of life for many international students at San Diego State University's American Language Institute (ALI).
To acknowledge those who are volunteering regularly, the ALI recently launched a Community Service Recognition program. Students who consistently make a difference in the community now earn an embossed seal on their academic certificate or on a letter of recognition.
Jesus Carrillo from Colombia has been actively involved in community service for many years. During his time as a student at the ALI, he has served food at St. Vincent de Paul Village that provides temporary housing to those in need, volunteered with Boys and Girls Clubs, helped to restore Chollas Creek, and danced with senior adults at the College Avenue Center.
"Before I came to San Diego, I knew that ALI was promoting volunteering activities," he said. "It was not difficult for me to accept the invitation from the Student Life office and its team. I am very surprised about the commitment of these people, as well as the diversity of partners they have. Besides the volunteering, activities promote sharing with students from all over the world and improving English skills."
Fellow Colombian Claudia Toca has participated in activities such as canyon restoration, community garden maintenance, health and wellness programs for San Diego-area youths, and serving meals at St. Vincent de Paul. She also took part in volunteer projects before attending the ALI.
"In my present and future, these kind of activities help me to feel satisfaction and tranquility," she said. "These activities are part of my social and environmental consciousness."
The Community Service Recognition program is available to students in the following programs: Intensive English for Communication (IEC), International Business English (IBE), Social Entrepreneurship (SE), English for Academic Purposes (EAP), Pre-MBA and Pre-Master's, and Semester at SDSU.
Alan Schuchman, the ALI Student Life Coordinator, oversees the ALI community service program. He said that the ALI takes its inspiration from SDSU's strategic plan and the goal of being a good neighbor to the surrounding community.
"We see how eager our students are to do positive things while they're here and we're happy to connect them with projects organized by local nonprofits," Schuchman explained. "The students are directly involved; they connect with local residents and develop real-life communication skills. As they help build a better community, it's clear their lives are also being enhanced."