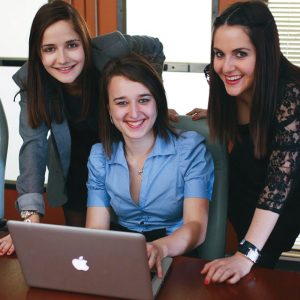 The Intensive English for Communication (IEC) program through the American Language Institute at SDSU will offer two content-based English language programs during the spring semester designed for students and professionals who want to develop and improve their practical English skills as well as study business English.
The ongoing International Business English (IBE) content-based language program is designed for students with intermediate to advanced English-language proficiency and a high level of commitment. This course is for students and professionals interested in improving their general business knowledge and learning more about American business practices as they relate to business around the world.
A new Social Entrepreneurship (SE) content-based language program will also be offered in spring tailored to students with high-intermediate to advanced English proficiency who want to learn about creating businesses that solve social problems.
"We have a great environment to create a program like this," said Kelly Shah, ALI program director, noting that SDSU has been ranked No. 18 by FORBES on its list of "America's Most Entrepreneurial Universities."
As part of this new program, students gain membership into the SDSU Entrepreneur Society and are able to take advantage of SDSU's Entrepreneur Center & Incubator. Students will take a variety of social entrepreneurship and business content classes in English instruction with a curriculum incorporating case studies, guest speakers, on-campus resources, and technology. There will also be field trips where these international students can witness real-life experiences in the United States.
In contrast, the IBE program offers more variety of levels than SE. Students in the program are allowed to observe SDSU business classes, and some students from both IBE and SE will even transfer into a Semester at SDSU program.
IBE and SE students have the opportunity to follow one of three tracks depending on their length of stay. Students who successfully complete a session (eight weeks in fall and spring, six weeks in summer) receive a Certificate of Recognition. Those who successfully complete a term (two sessions) earn a Certificate of Achievement. Students who enroll for a period shorter than a session are eligible for an IEC certificate with specialization in Business English.
Carlo Portman from Switzerland is a perfect example of an ALI student who has benefited from the IBE program. He will utilize his studies to work in an internship at a Swiss bank upon returning home.
"The program really helped me to explain and understand opinions in English," he said. "For people to understand Business English, they need to understand the idioms and expressions. I can take these back home with me and use them with business partners."
The same will be said by SE students when the program comes into existence in spring 2015.