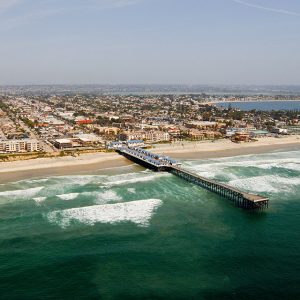 Pacific Beach, or P.B., is an iconic beach town/neighborhood whose residents are mostly young professionals, college students, surfers, and families. It is known for its nightlife – with blocks of eateries, coffee houses, taco stands, and boutique and unique stores. The area boasts a boardwalk, Ocean Boulevard, which is around three miles long and runs beside the beach. The boardwalk is where locals and tourists cycle, stroll, rollerblade, and shop.
Which Beach to Visit
Pacific Beach
Spend time on the beach, to enjoy the sun and ocean, where swimming and surfing are separated.
Tourmaline Surfing Park
Popular with beginner surfers, this beach is for surfing only.
North Pacific Beach
More of a family beach since it tends to be less busy and quieter with lifeguard-supervised swimming areas.
What to Do
Eat and Shop
Whether it's large portions of breakfast food, famous fish tacos for lunch, or real American burgers at dinner, eating in P.B. is easy, plentiful, and delicious.
Fish
Drop your fishing line on Crystal Pier, but bring tackle, bait, and a fishing license.
Enjoy
Watch the sun set into the Pacific Ocean.
Restaurants
Costa Brava – a tapas restaurant that brings the cuisine and culture of Spain to Pacific Beach.
Pacific Beach Fish Shop – choose your fish, marinade, and style (taco or sandwich).
PB Mika Sushi – five-dollar lunch bowls, combination bento boxes and fresh sushi
Isabel's Cantina – fusion food with popular dishes like lettuce wraps, Buddha bowls and dragon potatoes.
Vanoos Grillette – serving both Mediterranean fair and East Coast-style sandwiches and heros.
Enoteca Adriano – a unique and casual place modeled after the Enoteca's of Italy that are at the center of Italian culture.
Narraya – traditional Thai restaurant that has an amazing pumpkin curry.