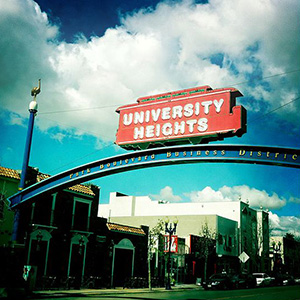 The small community called University Heights is located eight miles west of San Diego State University and can be easily reached by car or public transportation.
University Heights is known for having an excellent selection of places to eat that offer diverse menus, many types of decorations and intimate settings. It also has many coffee shops, gift and clothing stores, custom furniture makers, woodworkers, and hair stylists. The main street through town is Park Boulevard, which includes the University Heights sign as well as many of the restaurants, bars and shops in the area
More features in the area include a number of churches, grammar schools, a school of the arts and a library. Although this is very much a business area, it is also casual as you will see lots of people walking the streets and even starting conversations with each other. Among the things to see and do are: Trolley Barn Park, the destination of San Diego's first trolley line; the University Arts Open and Taste of University Heights; the Concert in the Park Series; and the "Ostrich on the Roof" that shows which way the wind is blowing. Find out more at the University Heights Community Association or University Heights Community Development Corporation.
Highlights
The Trolley Car Gate – Located at the corner of Park and Meade, you'll see the replica of the trolley car in the artwork of the gate if you stand back.
The Neighborhood Castle – Famous San Diego sportswriter Jack Murphy lived in this home that looks like a castle.
The Dog That's Always on Watch – On Park Boulevard, near Meade, there's a dog who is always watching who's going by.
The Highest Flag in the Neighborhood – This flag flies all of the time on top of an antenna on Golden Gate Drive.
University Heights Elephants – Two ceramic elephants watch over the entrance to a home on Meade and Florida.
Popular Restaurants
Parkhouse Eatery – Known for its big portions of food, this establishment features three casually romantic seating areas.
Soltan Banoo – This restaurant features eclectic Persian cuisine.
Muzita Abyssinian Bistro – This is food and African hospitality at its best in a unique environment.
Loving Hut – This is a vegan (vegetarian) restaurant with many menu items.
Circa Restaurant – Serves rustic, slow-cooked California comfort food paired with craft beers and great wines.
Grains – San Diego's new fully vegan vegetarian restaurant in the space formerly occupied by Adams Avenue Grill.
El Zarape Taco Shop – This very popular place includes a great selection of Mexican food and is known for its lobster burritos and fish tacos.
Lestats on Park – This coffee shop is a great place to study, is open 24 hours a day and has free WiFi as well as a nice selection of coffee, pastries, and sandwiches.