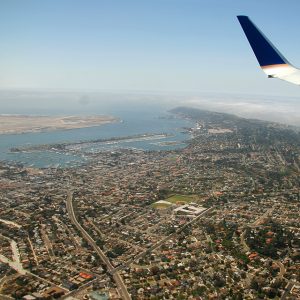 Point Loma is a beautiful historic area of San Diego that features many fantastic views of the Pacific Ocean along with multi-million dollar mansions in the exclusive area known as La Playa.
It is also the location where Juan Rodriguez Cabrillo landed on Sept. 28, 1542, marking the first time that a European expedition had set foot on what later would become the West Coast of the United States. Now the site of the spectacular Cabrillo National Monument, it has been recognized by the National Register of Historic Places in the U.S. Here, too, resides the Old Point Loma Lighthouse which opened in 1855.
Point Loma is a peninsula jutting into the ocean that also features the surrounding Harbor Island and Shelter Island areas. Because of its coastal location and yacht marina, Point Loma has many sportfishing excursions, whale watching tours, sailing adventures, and harbor cruises.

The Liberty Station area of Point Loma is a waterfront urban village in the redeveloped Naval Training Center that includes hotels, restaurants, shops, a park, the historic Sail Ho Golf Course, and the Naval Training Center Promenade. It is the home to 50-plus museums, galleries, artist and design studios, dance companies, and other organizations.
The Midway area of Point Loma includes Kobey's Swap Meet, the city of San Diego's largest weekend outdoor flea market. Also in the Midway area is the Valley View Casino Center (Sports Arena), offering concerts, UFC, indoor soccer, ice hockey, Disney on Ice, and other events.

There is also a much-visited tide pool near the Lighthouse, where low tide shows off such underwater features as sea anemones, crabs, and many other sea creatures. If you like to go surfing, the western edge of Point Loma at Sunset Cliffs features a great area to do so.
The Harbor Island area has a shoreline path with a steady ocean breeze that lets walkers, joggers, skaters, and bikers enjoy the magnificent views of the San Diego skyline, Coronado Island, and the Big Bay. Several grassy areas are ideal for picnics. Harbor Island is also great for enjoying the city lights by night; several fireworks shows on the July 4, Independence Day; and the boat Parade of Lights in December.

Shelter Island is the home to Humphreys Half Moon Inn & Suites, which features summer Concerts By The Bay. This concert series has close to 50 programs this summer, including two performances by the Beach Boys on Sept. 20. Also on Shelter Island is the Yokohama Friendship Bell, a large bronze bell that was a gift from the city of Yokohama, Japan in 1958 to commemorate its sister-city relationship with San Diego.
Point Loma Dining and Pubs
Bali Hai Restaurant
Con Pane Rustic Breads & Cafe
Corvette Diner
Fathom Bistro, Bait and Tackle
Jimmy's Famous American Tavern
Miguel's Cocina
Mitch's Seafood
Modern Times Beer
Phil's BBQ
Pizza Nova
Point Loma Seafoods
Pummaro Pizzeria
Slater's 50/50
Supannee House of Thai Restaurant
Tender Greens
Tom Ham's Lighthouse
The Pearl
Point Loma Venues
Cabrillo National Monument
Fort Rosecrans National Cemetery
Harbor Island
Humphrey's Back Stage Music Club
Liberty Station
NTC at Liberty Station
Old Point Loma Lighthouse
Point Loma Nazarene University
Point Loma Sport Fishing
Point Loma Tide Pools
San Diego Whale Watching
San Diego Youth Hostel
Shelter Island
Sunset Cliffs Natural Park
Valley View Casino Center (Sports Arena)