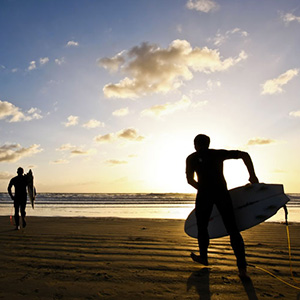 This beachfront neighborhood, known to locals as O.B., Ocean Beach is located about 10 miles west of San Diego State University and is easily accessible by car or public transportation.
One of the highlights of O.B. is the countless mom-and-pop shops, i.e., small and independent businesses. The main street, Newport Avenue, started developing when many family-owned businesses opened in the 1930s. The residents are so community-focused that they actively oppose chain businesses – meaning you will find it difficult to find a McDonalds or a Hilton hotel.
Apart from the local business focus, the area has a laidback beach atmosphere. A visitor will probably see shirtless and shoeless surfers going to the beach, and young adults enjoying food at the many open-front restaurants. Other sites and activities are: the kite festival; the Summer OB Street Fair and Chili Cook-off; Oktoberfest; weekly farmer's market with live bands; and surfing competitions.
Highlights
Dog Beach – Located at the northernmost end of Ocean Beach, this dog retreat has been around for generations. Dogs can run leash-free, dig in the sand, and swim in the ocean.
OB Pier – Almost 2,000 feet long, this pier is the longest on the West Coast.
Point Loma Light House – This landmark and museum allows visitor viewing.
Sunset Cliffs Park – This park includes 50 acres of hillside trails that provide visitors panoramic ocean views.
Robb Field – A park to satisfy the entire family, enjoy its many baseball fields, soccer and football areas, tennis courts, handball courts, a workout gym, basketball courts and skateboard park.
Favorite Restaurants and Bars
South Beach Bar and Grille – known for its fish taco, sit at the wooden bar and watch the sun set.
OB Noodle House – try Asian fusion noodles as well as Vietnamese bbq and Japanese teriyaki.
Azucar – fresh desserts and Cuban specialties like croquetas, pastelitos, and Cuban sandwiches.
Pizza Port – a classic menu of pizza and chicken wings with a San Diego twist.
Hodad's – visit one of the top 5 hamburger restaurants in the nation, but prepare to stand in line because this place is popular.
Getting There
Car: Parking near the beaches and storefronts are free and abundant.
Bike: Biking in O.B. is good fun – you will see plenty of Beach Cruisers!
Bus: There are three buses (Routes 15, 35 and 923) that leave SDSU's campus and drop you off on Newport Avenue. And the cost is only $2.25.