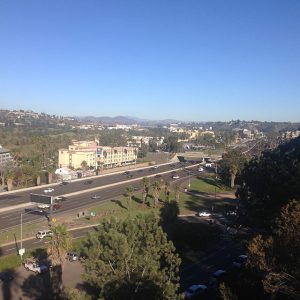 Shopping, restaurants, hotels, and Qualcomm Stadium are reasons people come to Mission Valley all year long. Many of San Diego's major freeways flow through the area, making it an easy destination from anywhere in the county. Even though this area is considered by many to be a location for shopping and hotels, nearly 15,000 people live in Mission Valley.
The past 50 years have seen a large growth of hotels, shopping centers, condominiums and office buildings. In 1967 San Diego Stadium (now Qualcomm Stadium) was built. The stadium is home of the SDSU football team and the San Diego Chargers, a professional football team, as well as other sporting events and concerts. The parking lot at the stadium is regularly used for motorcycle races, car races, and "tent sales" for items such as cars.
The Green Line of the San Diego Trolley system serves San Diego State University and runs through Mission Valley, making mass transit a convenient option for everyone. This trolley line travels in an east-west direction through the heart of Mission Valley, making stops at Old Town, Morena/Linda Vista, Fashion Valley Transit Center, Hazard Center, Mission Valley Center, Rio Vista, Fenton Parkway, and Qualcomm Stadium. Then it heads to the campus of SDSU and on to the East County cities of La Mesa, El Cajon, and Santee.
Fashion Valley, Westfield Mission Valley, Hazard Center, and Fenton Marketplace are major shopping centers that attract people from throughout the county. These centers offer anything you can imagine to buy.
Riverwalk Golf Course is in the middle of Mission Valley. It includes three courses that are each nine holes long with many wetland areas, nearly 100 sand bunkers and many water features – including four lakes and the San Diego River.
With its freeways, shopping centers, restaurants, and hotels, Mission Valley is a great location to enjoy all that San Diego has to offer.
Events in Mission Valley
San Diego Jazz Fest
Nov. 26-30
The 35th San Diego Jazz Fest over the Thanksgiving holiday will present traditional jazz music, from ragtime to swing to dixieland at the Town & Country Resort and Hotel in Hotel Circle. Jazz bands and musicians from across the U.S. will perform.
A Christmas Carol
Nov. 28-Dec. 28
San Diego's Cygnet Theatre helps you celebrate the holiday season with the beloved story of Ebenezer Scrooge presented as a live radio play. Complete with holiday music, commercials and live sound effects, it's a holiday treat for the whole family.
San Diego State Football
Nov. 29
The San Diego State football team will play San Jose State in the final regular season game for both teams at 12:30 p.m. at Qualcomm Stadium.
A Magical Visit from Caring Santa
Dec. 7
Children with special needs and their families are invited to a special photo session at Fashion Valley Shopping Center with Caring Santa in an environment set up to support the developmental needs of kids with all abilities.
San Diego Chargers Football
Dec. 7
The San Diego Chargers football team plays the New England Patriots at 5:30 p.m. at Qualcomm Stadium in a game that will be televised nationally by NBC as the National Football League's Game of the Week.
Poinsettia Bowl
Dec. 23
College football teams from the Naval Academy and the Mountain West Conference play in this 10th annual game at 6:30 p.m. San Diego State could be the team from the Mountain West.
Holiday Bowl
Dec. 27
College football teams from the Pac 12 and Big Ten conferences meet in this 37th annual game at 5 p.m. at Qualcomm Stadium.
Restaurants & Entertainment Venues
Applebee's
Barnes & Noble
Buffalo Wild Wings
California Pizza Kitchen
Chipotle
Daphnes Greek Cafe
Fuddruckers
Hazard Center YMCA
Joe's Crab Shack
Outback Steakhouse
Panda Express
Sombrero Mexican Food
The Cheesecake Factory
Tilted Kilt Pub & Eatery