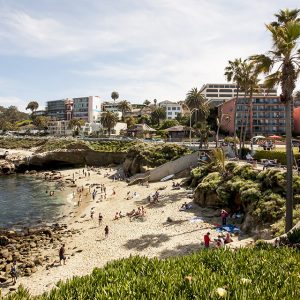 La Jolla is one of the most popular beach locations in California because of its beautiful coastline and spectacular views. It's surrounded by the ocean with the slopes of picturesque Mt. Soledad in the background.
The La Jolla Cove is a favorite spot for swimming, snorkeling and diving, as well as providing a nice area for biking and kayaking. La Jolla Shores features a long, wide beach with soft sand, clean water and gentle waves, and is a great spot for families, sunbathers and beginner surfers.
La Jolla Village is near the Torrey Pines State Natural Reserve, where you'll find some of the best hiking trails in San Diego. There are many easy hikes about two miles long that will take about an hour to explore and offer breathtaking views of the Pacific Ocean.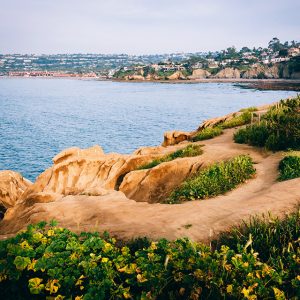 Closer to the La Jolla Village area, the La Jolla Coast Walk Trail runs from La Jolla Shores beach to the La Jolla Cove. This is another easy walk in a very scenic area.
The Birch Aquarium is the public outreach area for the Scripps Institution of Oceanography and has more than 400,000 visitors each year. It features more than 3,000 animals representing 380 species and is located on a hilltop with a spectacular view of the Pacific Ocean.
Shopping in La Jolla ranges from inexpensive items to the most expensive and luxurious brands in the world. You may even see some American celebrities in downtown La Jolla.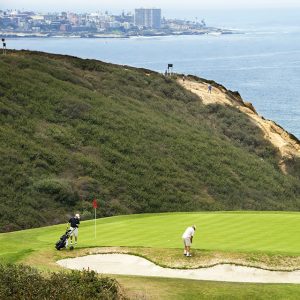 Golf is also a popular activity at the Torrey Pines Golf Course, La Jolla Country Club Golf Course, and the Spindrift Course at La Jolla Beach & Tennis Club. The Farmers Insurance Open includes the top golfers in the world and normally takes place the last week of January at Torrey Pines Golf Course.
La Jolla Dining
Alfonso's of La Jolla
Bubba's Smokehouse BBQ
Burger Lounge
Café LaRue
George's At The Cove
Lean and Green Café
Little Korea
Marine Room
Mary's English Kitchen
NINE-TEN Restaurant
Pizza on Pearl
Richard Walker's Pancake House
Rimel's Rotisserie
Sammy's Woodfired Pizza
Smash Burger
The Shores Restaurant
La Jolla Attractions and Events
Fourth of July Fireworks at La Jolla Cove
La Jolla Concours d'Elegance
La Jolla Half Marathon
La Jolla Music Society
La Jolla Playhouse
La Jolla Symphony & Chorus
Relay for Life of La Jolla
The Farmers Insurance Open