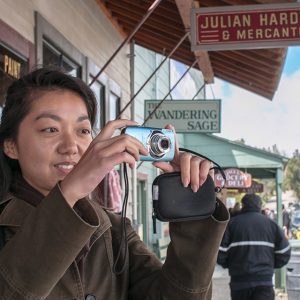 Nestled in a forest, the beautiful mountain town of Julian is about a one-hour drive from San Diego. Among other things, it is famous for its apple pie, gold mining, and hiking.
Each year, Julian hosts its Apple Days Celebration in early October. During the month, 10,000 apple pies a week are baked, when tourists come from all over Southern California to enjoy the fall colors, cool breezes, and frontier-town atmosphere.
Mom's Pie House, located on the town's main street, is the place where visitors gather to enjoy apple pie, ice cream, and coffee. During the fall season, when Julian attracts its most visitors, the line sometimes goes out the door as people wait to have Julian's most popular treat.
Julian is also known for its Gold Rush Days, which normally take place the last weekend in May. The event celebrates the discovery of gold in 1869 in the community and invites visitors to learn more about its history, with entertainment including gold panning, tomahawk throwing demonstrations, skits, candle dipping, and more.
In the winter of 1869, former slave Fred Coleman discovered gold in a small creek just outside of Julian. Within a few weeks, more than 800 prospectors from all over the country were headed to Julian in search of gold.
Hiking and biking are also popular in and around Julian. Trails range from the Stonewall Peak Trail, which can be finished within a couple hours, to the much more challenging Three Sisters Waterfalls Trail that is recommended only for very experienced hikers.
Downtown Julian features specialty shops lining the historic streets, including the Bird Watcher gift store and the Julian Cider Mill, which features jams, jellies, and a variety of nuts. The entire main street is only a few blocks long, so visitors can see all of the stores even if they take their time at each location.
The streets of downtown Julian additionally feature horse-drawn carriages where you can ride through the area in 20 minutes. There is also a western-era cowboy demonstration that takes place each weekend afternoon.
Julian Dining
Apple Alley Bakery
Buffalo Bill's Restaurant
Candied Apple Pastry Company
Granny's Kitchen
Heroes
Jeremy's on the Hill California Bistro
Julian Café and Bakery
The Julian Grille
Julian Tea & Cottage Arts
Miner's Diner
Mom's Pie House
Poncho Villas
Romano's Italian Restaurant
Rongbranch Restaurant
Soups & Such Café
Wynola Pizza & Bistro