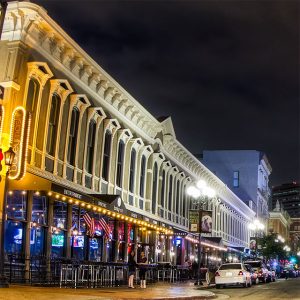 There are always many activities in Downtown San Diego and its famous Gaslamp Quarter.
From April through September, the San Diego Padres baseball team plays more than 80 home games at Petco Park. This facility also hosted the World Baseball Classic semifinals in March, featuring the Dominican Republic, Puerto Rico, United States, and Venezuela.
Comic-Con International: San Diego hosts 130,000 visitors each July at the San Diego Convention Center. This multi-genre entertainment and comic convention offers close to 700 special events featuring comics and all aspects of the popular arts. Forbes magazine refers to Comic-Con as "the largest convention of its kind in the world," and "the granddaddy of pop culture festivals in the U.S."
Dining in the Gaslamp includes a culinary journey of dishes from all over the world, with restaurants ranging from casual to upscale. The annual Taste of Gaslamp, San Diego's original culinary and cultural tour, takes place each June and showcases the excellent dining, live music, art gallery, and retail options available in this vibrant district.
The annual San Diego Mardi Gras/Gaslamp Quarter Parade & Celebration each February has a New Orleans touch that features food offerings from 20 restaurants. Visitors collect plenty of beads just in time to deck themselves out for Fat Tuesday.
Seaport Village is a waterfront shopping and dining complex adjacent to San Diego Bay that has more than 50 one-of-a-kind shops, 13 casual dining eateries, four fine dining waterfront restaurants, and is located in close proximity to local hotels. The USS Midway Museum is a maritime museum that honors the legacy of those who have served America and features an awe-inspiring flight deck.
The San Diego International Film Festival in October is one of the leading stops on the independent festival circuit. This five-day event features 100-plus independent films, studio premieres, panels with celebrities and industry insiders, red carpet events, parties, all-star tributes, and filmmaker awards.
The annual Port of San Diego Holiday Bowl Parade is held each year the week between Christmas and New Year's Day and is known as "America's largest balloon parade." More than 100,000 people line the streets for this parade that is the same day as the Holiday Bowl football game between two of America's top major college teams.
Downtown San Diego recently added two parks. Waterfront Park, located at the County Administration Center, offers an opportunity to beat the heat with an 830-foot-long fountain with 31 jets that shoot water 14 feet into the air before it falls in a shallow splash area. Horton Plaza Park includes an amphitheater for live music acts, retail Pavilions and a new, interactive fountain.
It all adds up to many exciting events in the Downtown/Gaslamp area.
Downtown Dining
Attractions