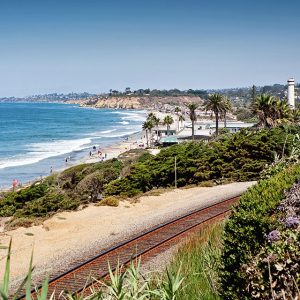 There is a lot to do in Del Mar, such as going to the San Diego County Fair, summer horse races, and the beach.
About 1.6 million people attend the San Diego County Fair each June and July. While there, you can eat various foods such as French toast bacon, fried pizza, deep fried nachos, fresh fried chips, lasagna and grilled cheese sandwiches, many different types of hamburgers and hot dogs, deep fried twinkies, ice cream, and kettle corn.
You can also attend concerts, take part in a variety of rides and games, view livestock, and visit halls where you'll see products like sharpeners, slicers, peelers, woodworking, gems, minerals, quilts, and sewing demonstrations. The 2017 San Diego County Fair runs June 2-July 4 and features a "Wild, Wild, West" theme.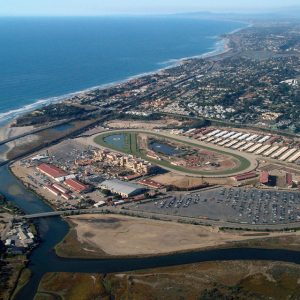 The Del Mar Thoroughbred Club is the place to watch horse racing each year from late July through early September. Gather at the seaside racetrack to bet on your favorite horses and maybe even get a look at famous stars who often come to the track from Hollywood, located just over 100 miles (160 kilometers) north of Del Mar. Enjoy free concerts after each of the Friday races.
The city also has popular beaches: North Del Mar City Beach, considered by many as San Diego's finest beach; South Del Mar City Beach, a long, cliff-lined, and isolated area that is great for long walks or jogs; and The River Mouth (Dog Beach), which is broad, wide, and dog-friendly.
Del Mar Village offers outdoor shopping, a dining promenade, and many art galleries surrounded by sculptures and fountains. At the Farmers Market on Saturday, there are organic and pesticide-free fruits and vegetables, flowers and orchids, international cuisine, eggs, seafood, cheese, hummus, guacamole, bread and baked goods including gluten free products.
At Del Mar Plaza, there are spectacular ocean views and more than 30 fine shops, boutiques, and restaurants for your enjoyment.
If you like golf, the Grand Golf Club will challenge you with its rolling hills and many bunkers hidden within those hills. Nearby La Jolla features the Torrey Pines Golf Course, which hosts the professional Farmers Insurance Open each February.
Del Mar Dining
Americana Restaurant
Beesalt Balcony
Board & Brew
Brigantine Seafood Restaurant
Bully's
Burger Lounge
China Café
Del Mar Pizza
Jake's Del Mar
Milton's Deli Restaurant
Pacifica Del Mar
Sbicca
Searsucker
Seasalt
Smashburger
Taste of Thai
Tio Leo's Mexican Restaurant
Villa Capri
Del Mar Attractions
Beaches & Parks
Del Mar Fairgrounds
Del Mar Farmers Market
Del Mar Golf Courses
Del Mar Plaza
Del Mar Thoroughbred Club
Del Mar Village
Dog Parks
San Diego County Fair
San Dieguito Lagoon