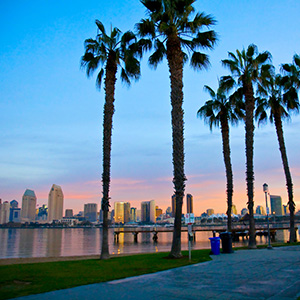 The affluent community of Coronado has some of the best beaches and scenery in San Diego. It's around 14 miles from San Diego State University and can be reached by car or public transportation.
Coronado is known for its picturesque setting. Pristine beaches line the whole island where beachgoers go for body boarding, surfing, tanning, and romantic walks on the beach.  This year, Coronado beach was even named as the #1 beach in America by Dr. Beach due to its silvery sand and gorgeous setting. In addition to this, yacht clubs are all around the bay along with huge mansions right on the beach. And there is plenty of fine dining for every taste appeal. One can also walk down the main street for unique boutique shopping.
The famous Hotel Del Coronado where celebrities and world leaders have come and visited is right on the beach. And, there are world-class resorts and golf courses where one can have a relaxed and pampered day.
Highlights
Hotel Del Coronado is a beautiful hotel that also serves as a national historic landmark. Eleven presidents have visited the hotel as well as celebrities including Babe Ruth, Brad Pitt, and Madonna. There are even reports about the sighting of a ghost named Kate Morgan who never checked out of the hotel.
Coronado beaches have been named by the Travel Channel to have some of the best beaches in America. Three beaches worth visiting are North Beach, Central Beach, and the Shores.
Coronado Bay Bridge opened in 1967, and was awarded the "Most Beautiful Bridge" from the American Institute of Steel Construction in 1970. It cost 50-million dollars to build.
One can keep boredom away by walking along the Main Street in Coronado – there are unique boutiques to shop in as well as eateries and beautiful scenery.
Known for its beauty and wealth, Coronado means "the crowned one." It is nicknamed The Crown City and it even has its own flag.
Popular Restaurants
Mootime Creamery is located on Orange Avenue. This famed ice cream shop has even served famous customers like Magic Johnson, Mandy Moore, and Cuba Gooding Jr.
Danny's Palm Bar and Grill is a dive bar known for their "slamburgers," and is known as a hotspot for Navy Seals for years.
The Hotel Del Coronado or The Del, as it is called by locals, offers several restaurants and eateries at its hotel, but the one that stands out the most is the Crown Room. Voted the best in San Diego for its Sunday brunch, make sure to bring an appetite because you will leave full.
Clayton's Coffee Shop has a 1950s diner vibe where people love to divulge in all American delicious food.
If you're thinking of a romantic place, the Coronado Boathouse is perfect for you. It sits right over the water where you can see beautiful views of the bay and the city.
Coronado Brewing Company is a laid-back restaurant and it knows how to please with a huge menu to accommodate everyone. If you're over 21, try one of their handcrafted beers.