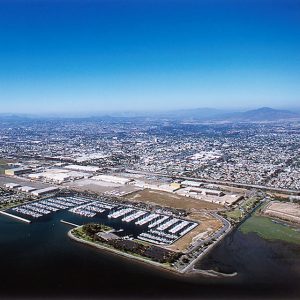 Located in the South Bay area of San Diego County, Chula Vista is the second largest city in the county and the 14th largest in California.
The U.S. Olympic Training Center in Chula Vista, which opened in 1995, has facilities for archery, beach volleyball, canoeing/kayaking, cycling, field hockey, rowing, rugby, soccer, tennis, track & field, triathlon, and cross-training for various winter sports. Athletes are provided housing, dining, local transportation, recreational facilities, and professional development programs.
Music enthusiasts enjoy Sleep Train Amphitheatre, one of the largest live-music concert venues in San Diego. The outdoor facility can accommodate approximately 20,000 people and offers about 25 events per year. This summer's lineup includes the Dixie Chicks (July 15), Kenny Chesney (Aug. 4), Snoop Dogg (Aug. 27), and the Doobie Brothers (Aug. 30).
In the heart of historic downtown Chula Vista is Third Avenue Village, featuring shops, restaurants, businesses, services, a boutique bed and breakfast, and rental halls. Activities along Third Avenue include a weekly Farmers Market, the Lemon Festival, Village Street Fair, Holiday in the Village, and the Starlight Parade.
The Chula Vista Marina provides boaters with a peaceful atmosphere away from the busyness of downtown. The area is a tropical paradise with spectacular sunsets.
Aquatica, Sea World's Waterpark, offers three different slides, a beach with 43,000 square feet of sand, and a large wave pool. Tying into Aquatica's sea-life theme, dozens of freshwater turtles make their home in the park.
Golf is also a popular South Bay activity. Courses include the San Diego Country Club, Eastlake Country Club, Chula Vista Municipal Golf Course, and Salt Creek Golf Club.
Chula Vista Dining
Canada Steak Burger
Ciao Italian Restaurant
El Patio Restaurant
Island Restaurant
Jersey Mike's
Karina's Mexican Seafood
LaBella's Pizza Garden
La Quinta Grill & Cantina
Lolita's Taco Shop
L&L Hawaiian Barbecue
Mi Terra
Miguel's Cocina
Olive Garden
Rubio's
Sushi House
Teriyaki Grill
Vega Café
Zorba's Greek Restaurant
Chula Vista Attractions
Aquatica, Sea World's Water Park
Chula Vista Library
Chula Vista Marina
Chula Vista Municipal Golf Course
Eastlake Country Club
Lemon Festival – August 7
Len Moore Skate Park
Living Coast Discovery Center
Otay Valley Regional Park
Salt Creek Golf Club
Sleep Train Amphitheater
The US Olympic Training Center
Third Avenue Village
Weekly Certified Farmers Market