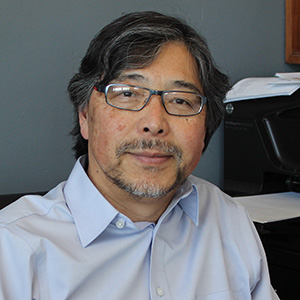 When Kotaro Nakamura came from Yokohama to learn English at SDSU's American Language Institute (ALI) in 1977, he thought he'd be on campus for a couple years before going back to Japan.
Nearly four decades later, he's still on campus now, as the director of SDSU's School of Art and Design.
After passing the TOEFL test through ALI, Nakamura became a graduate student at the School of Art and Design from 1978-80. A professor convinced him to stick around for a year and complete his practical training by teaching.
"At that point, I planned on going back to Japan," he said. "Then I met a girl on campus and decided to stay."
The girl, Katherine, was an English major. She and Nakamura have been married 36 years.
"This is not how I planned it," he said. "Things happened that way. I had planned on going back to Japan to be with my friends and family. In hindsight, I'm very lucky to be here."
Nakamura remembers coming to the ALI when classes were held in a two-story apartment building near the former SDSU student health center, which was across Campanile Drive from the modern Gateway Center that now hosts the ALI.
"The teachers were great," he said. "They really cared about students. They helped you make the transition from a foreign student to a native speaker. I appreciated their care."
Their nurturing extended beyond the classroom. Nakamura noted that his teachers even helped him with tasks such as using a checkbook.
Nakamura came to SDSU before the days of the internet, discovering the campus through a Tokyo travel agency brochure. He said he was attracted to the university because of its environmental design program.
When Nakamura arrived at SDSU, he could not speak English even though he had studied the language for several years through middle school, high school, and three years at a Japanese university.
"The Japanese education is based on reading and writing, not speaking," he said. "I hung around Japanese students and spoke Japanese because I was scared. My English became much better after I met my girlfriend."
Even after all these years in San Diego, Nakamura sometimes wonders what life back in Japan would have been like for him.
"Once in a while, I do get to go back," he said. "My friends there seem so old. It's a very tough life in Japan. The stress level there is much higher versus San Diego."
Nakamura advanced to the level of interim director at SDSU's College of Art and Design in 2013, and became the permanent director in 2015.
Outside of SDSU, Nakamura is the owner of RNT Architects, an architectural design and master planning business.
"My teaching and practice feed off each other," he said. "What I teach in the classroom is directly influenced from my practice. If I was just teaching, I wouldn't learn what is going on in the practice of design."
Nakamura also reaches out to advanced level ALI students at their orientation to enroll in regular courses on campus.
"I tell the students that I was once one of them," he concluded. "It's interesting to look at the students and see myself from years ago."