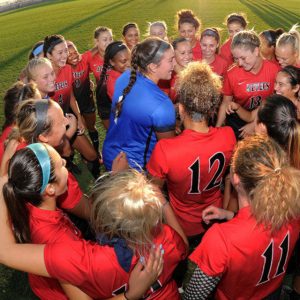 San Diego State University has one of the top athletic programs in America and all SDSU students, including ALI students, get free admission to the football and basketball games, as well as all other athletic events on campus.
Since the 2010-11 school year, the Aztecs have the third-best combined record in the country for their men's basketball and football teams.
The basketball team played 11 straight seasons in postseason games in the National Collegiate Athletic Association (NCAA) and National Invitational Tournament (NIT) tournaments, which are reserved for the top teams in America. SDSU, which sells out every home game at the 12,414-seat Viejas Arena has twice made the prestigious Sweet 16 in the NCAA Tournament (meaning it's among the top 16 out of more than 350 universities).
In football, the Aztecs play in their seventh straight bowl game in December 2016 or early January 2017. These games are primarily for teams that win at least half of their games during a season. SDSU plays at Qualcomm Stadium, the same site as the San Diego Chargers of the National Football League.
In the last four sports seasons, the Aztecs won 32 conference championships, more than any other in the 12-team Mountain West Conference. The Mountain West teams come from an area that spans about 3,400 miles (more than 5,400 kilometers) from Hawaii to the Rocky Mountain region of Colorado and Wyoming.
Here are some other facts about SDSU athletics:
Women's soccer won three out of the last four Mountain West Conference championships before this season
Women's softball made the NCAA Tournament nine straight seasons until 2016, and won at least 30 games in 11 straight seasons
Women's golf earned a place in the NCAA Tournament six of the last seven years
Women's water polo finished among the top eight in America last season
Men's baseball played in the NCAA Tournament three straight years before 2016. Its stadium is named after former coach Tony Gwynn, who died in 2015 and is in the Major League Baseball Hall of Fame.
Men's golf finished among the top five teams in the nation last spring
Ashley Henderson of SDSU finished second nationally in the NCAA Outdoor Track and Field Championships last spring
Fourteen members of the women's swimming and diving team were named to the all-Mountain West Conference team for finishing in the top eight during the finals
On top of it all, SDSU set a school record for the second straight year with 72 student-athletes earning Mountain West All-Academic honors for the spring 2016 semester. This year's spring total surpasses the old record of 69, which was set in spring 2015.
To be eligible for selection, student-athletes must have completed at least one academic term at SDSU while maintaining a cumulative grade-point average of 3.0 (B or better), and be a starter or significant contributor on their team.