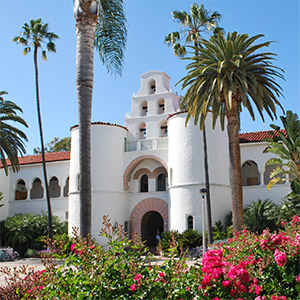 When students worldwide attend the American Language Institute (ALI) at San Diego State University, they are enrolling in an institution that ranks high in America for its achievements and distinctions.
SDSU is currently ranked in the top 150 national universities and in the top 80 public universities, according to U.S. News & World Report's annual ranking of America's Best Colleges.
Additionally, SDSU's international business undergraduate program is ranked No. 10 in the nation and several graduate programs are standouts in their fields. They include rehabilitation counseling (No. 9), speech language pathology (No. 25), clinical psychology (No. 26), audiology (No. 27), nursing midwifery (No. 29), and public health (No. 30).
SDSU's campus is a hub of student invention and innovation, led by the Lavin Entrepreneurship Center and the Zahn Innovation Center. FORBES magazine ranked SDSU No. 23 on its list of America's Most Entrepreneurial Universities.
The Carnegie Foundation classifies SDSU as a doctoral-granting institution with high research activity funded by the National Institutes of Health and the National Science Foundation. Undergraduate students have many opportunities to work with faculty mentors on exciting projects in SDSU's campus labs and research centers.
For the second consecutive year, SDSU was selected a recipient of INSIGHT Into Diversity Higher Education Excellence in Diversity Award. The national honor recognizes U.S. colleges and universities that demonstrate outstanding commitment to diversity and inclusion. U.S. News and World Report ranked SDSU in the top 20 nationally for ethnic diversity.
In addition, SDSU ranks No. 22 in the nation for the number of students studying abroad, in the latest Institute for International Education's Open Doors report. More than 2,100 students have international experiences each year, choosing from nearly 400 programs in 52 countries.
On the local level, Aztec Athletics unites the San Diego community. In 2014, SDSU teams won nine Mountain West Conference championships. The football team competed in a fifth consecutive bowl game, ranking it among only 29 universities nationwide that have taken part in such a prestigious game each of the last five years. The men's basketball team earned a spot among the top 16 in the nation twice in the last five seasons, and Shanieka Thomas won two NCAA triple jump titles – the fourth and fifth national titles for SDSU track and field in the last three years.
All in all, SDSU is a great place to attend for students from any country.