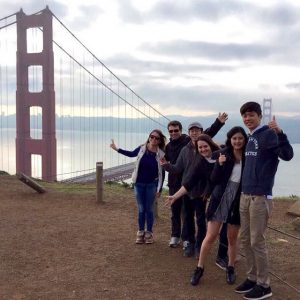 When students attend the American Language Institute (ALI) at San Diego State University, they are going to school at a beautiful location in California with many fun places nearby to visit.
Lots of students love to visit the beaches that stretch for miles. For an entire day of activity, they may also visit such tourist attractions as the San Diego Zoo, Sea World, Safari Park, and Legoland California.
There are numerous other places within driving distance in California, including Los Angeles (two hours away) and San Francisco (about an eight-hour drive).
Las Vegas, Nevada, a popular tourist destination, is about a five-hour drive. The Grand Canyon in Arizona is within a long day's drive.
The ALI offers many trips to its students through various local companies. Aztec Adventures on the San Diego State campus also hosts numerous excursions.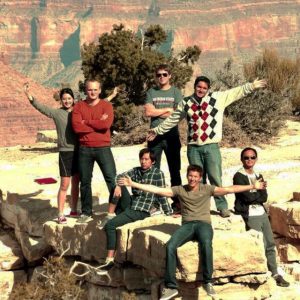 ALI student Natalia Mityushina, an International Business English (IBE) student from Russia, drove to San Francisco along with five friends from the ALI. She described her group as "six people in one car with jokes, music, long talks, and fun, fun, fun!"
"San Francisco is one of the most beautiful cities in the world," she said. "It's small, but has its own charisma and style. It's not like other American cities; it's more European. Also, in San Francisco you can find a lot of stuff to do and to see like the Golden Gate Bridge and Pier 39. Just to walk around is nice, and you see lots of colorful districts."
Her group also enjoyed riding the cable car (an open train trolley). She said it was interesting to stand up all the way while riding the cable car.
Natalia added that a big part of the adventure was the car trip. "I totally recommend to do a road trip through California State Route 1. It's an amazing route: the road runs between the ocean and mountains."
Sibel Can Uzun from Turkey, an IEC/IBE student, took the short drive to Los Angeles.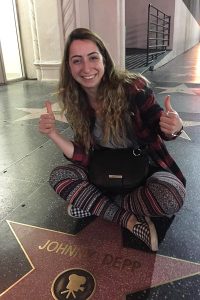 "When I went to LA, I was walking on the Hollywood Boulevard and everybody was taking pictures with the stars. I did the same," she said. "Lots of people were wearing costumes like Spider-Man and Captain Jack Sparrow. My favorite was Captain Jack Sparrow because I love (actor) Johnny Depp.
"A lot of tourists were there, too, in front of the Chinese Theater taking pictures. I looked at all the famous artists' names. It was amazing."
Amy Sakurai is an IEC student from Japan who visited the Grand Canyon, a spectacular place to see in northern Arizona.
"I really loved the Grand Canyon," she said. "It was so amazing. I went there with SDSU friends and spent three nights together during the Thanksgiving holiday. We talked and laughed a lot. I have a lot of good memories from there."
The same can be said for so many ALI students who take advantage of the wonderful areas that surround San Diego, California.