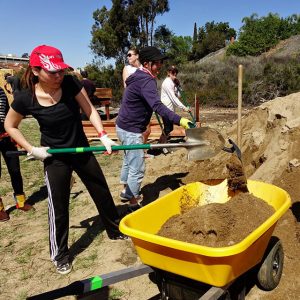 Students at the American Language Institute (ALI) come to San Diego State University to improve their English language skills and prepare themselves for success in the future. Before returning home, many choose to give back by participating in community service projects.
Victor Alsaeed from the small Middle Eastern country of Qatar is a perfect example.
Alongside other ALI students, he has participated in activities ranging from serving food to residents at St. Vincent de Paul Village to picking up coastal debris with I Love A Clean San Diego to filling planter boxes at the College Area Community Garden.
All the while, Alsaeed said he is giving as well as taking back. In the process of doing community projects, ALI students are also working closely with Americans and learning how to improve their English through verbal communication with fellow volunteers.
"As Martin Luther King had a dream, we have a dream to speak English as American students," Alsaeed said. "It's my pleasure to serve the community. It's a good use of your time. It helps with your speaking and listening, too."
Among his favorite outings was the Aztec Unity Project. Planned by SDSU Student Life and Leadership, the program involved volunteering with fellow ALI and main campus students at the Salvation Army Kroc Center's Boo Bash. The group spent half a day organizing Halloween-themed activities for local families and children.
"I made new friends; not just ALI students but San Diego State students," Alsaeed said. "It's a good way to break the ice. ALI students are sometimes shy to speak English. We stayed close to the SDSU students and learned how to speak the same language."
Eun Hee Cho from Korea is another example of an ALI student helping out in the San Diego community. She has taken part in many of the same projects as Alsaeed.
"I like the saying 'No man is an island.' If there is somebody who needs help, I want to share what I have. I also want to keep our nature clean for the community and for the next generation," Cho said.
She also spent a weekend as part of the Aztec Unity Project where ALI students joined their peers from the main campus cleaning up trash from the banks of the San Diego River. The day before their clean-up effort, the group participated in a series of team-building exercises to ensure their work together would be enjoyable.
"I participated in the Aztec Unity Project for the same reason as other projects; I wanted to help the community. The only difference was that we discussed our project after volunteering," she said.
Alan Schuchman, the ALI Student Life Coordinator, oversees the volunteer program. He said that the ALI takes its inspiration from SDSU's five-year strategic plan and its aim to be a good neighbor to the surrounding community.
Starting in spring 2015, ALI students will receive recognition on their program certificates for volunteering on a consistent basis, he noted.
"It's heartening to see our students take the extra step to help others," he said. "They're not just students in school; they're engaging with all kinds of people and