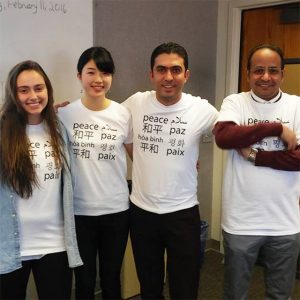 Students from an oral communications class at SDSU's American Language Institute took a project one step further by making it literal rather than theoretical.
The group of four students, from a class of 15, decided to create a real-life project and raised $800 to help Syrian refugees by creating and selling T-shirts with "Peace" written on them in their eight native languages: Arabic, English, French, Japanese, Korean, Mandarin, Portuguese, and Vietnamese. Fittingly, they called themselves "The Humanity Group."
Instructor Bobby Smith, who taught the class through the International Business English (IBE) program, said the students  were assigned to come up with a solution to a real-world problem. After discussing the project, The Humanity Group members decided they wanted to help less fortunate people and started a page at GoFundMe.com/thgbuildashelter – with the assistance of their instructor – to help Syrian refugees.
"This particular group did something outside of what they were required to do," Smith said. "When they talked about Syrian refugees, they discussed everything from the international economy to terrorism."
The Humanity Group subsequently designed the "Peace" T-shirt and reached out through one-on-one talks and social media to family, friends, classmates, and ALI staff, among others. The suggested selling price was $25, but students took whatever donations individuals chose to give, ultimately ranging from about $5 to nearly $100.
Smith sent the funds to USA for UNHCR (United Nations High Commissioner for Refugees), The UN Refugee Agency. The organization responded by letter to Smith with the following:
"Your gift is providing warm blankets for freezing children, emergency food, and shelter from rain, snow, and wind. You are helping us provide emergency treatment for the ill and injured. And you are helping UNHCR be on the scene to protect refugees' rights and connect them to assistance programs."
"We did it because we wanted to make a difference to the community while working hard for a good cause," said student Isabela Zaremba of Brazil, the group manager. "When we discovered that we raised more than our goal of $600, we were amazed.
"It was an indescribable feeling to know that we were helping these people for real. I couldn't be more proud about my group and my teacher's work."