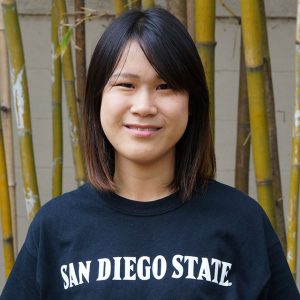 Wearing a black San Diego State T-shirt while being interviewed, Tomomi Aoki was all smiles as she discussed topics from her worldwide travel, to her stay in San Diego, to studying International Business English (IBE) at the SDSU American Language Institute.
The Osaka, Japan native had visited countries such as Korea, Thailand, Vietnam, France, Italy, Cambodia, Sweden, Finland, Morocco, Estonia, Latvia, Laos, India, Spain, and Lithuania before settling in at SDSU for a four-month educational stay.
"I like to see places," she said. "I wanted to be more confident in myself. I like to know about different cultures."
Tomomi likes what she sees so far of SDSU and the San Diego area. She is taking IBE to learn English and take it back to her native country where she would like to work for a company in an employment field she has yet to choose.
The IBE certificate program is designed for students such as Tomomi with intermediate to advanced English-language proficiency and a high level of commitment. This certificate course is for students and professionals interested in learning more about American business practices as they relate to business around the world; many times taking those practices back to their homeland as Tomomi plans to do.
"Learning English helps me a lot," said Tomomi, who actually was majoring in Spanish at a university near Osaka before coming to SDSU.
"I wanted to study abroad in English," she said. "I also wanted to study Spanish. San Diego is next to Mexico and many people speak Spanish here. It helps me out."
Tomomi came to SDSU at the recommendation of both a friend and an ALI agent. Since being at SDSU, she has been pleasantly surprised by what it has to offer beyond education, noting how impressed she has been by the university's Aztec Recreation Center (ARC), theater, and library.
"In Japan, my university is very, very small," she said. "It's not like this. This university is very big. This is a good place to study."
In addition, she finds San Diego a good place to live.
"I love it," she said. "San Diego has nice weather and very friendly people. It's a nice place for the beach. I like the sunset, too."
All of which is adding up to a wonderful four-month stay while preparing for the next step in her career.