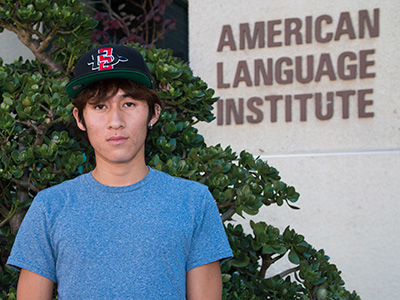 When Hiroki Matsunaga heard about SDSU's American Language Institute it was like music to the ears of someone who has played piano since childhood.
Not only would he learn English as he dreamed of becoming an airline pilot; he would also be close to the Mexican city of Tijuana.
"I want to study English somewhere that is very close to Mexico," said Matsunaga, who's enrolled in the Intensive English for Communication (IEC) program at the ALI. "If I want to be a pilot in Japan, I'll have to pass a company exam. Then, I'll have to pass a very difficult English exam."
Since the age of 6, he has desired to be an airline pilot. Why?
"When my family was in an airport in Hawaii, I met an airline pilot wearing a suit," he answered. "When he asked my name in English, my parents and grandparents had taught me to say, 'my name is Hiroki Matsunaga.' I was very impressed with the pilot and wanted to be like him."
In order to be like the pilot, Matsunaga said it's imperative that he do well during his two semesters at ALI. The IEC program is focused on speaking and listening, grammar, reading, and writing. IEC provides students the opportunity to practice their skills with teachers, American students, and classroom facilitators.
Before coming to America, Matsunaga was a junior at Sophia University in Tokyo with a Spanish major because of his interest in the Latin American culture and economy.
"In Japanese education, we learn grammar, reading, and writing," he said. "We do not focus on speaking and listening like we do here at ALI. It has helped me a lot."
He attributes his progress to his teachers at the ALI.
"They are very kind," he said. When I have a question, the teachers will tell me what something means. They all answer me. I like it."
Matsunaga also enjoys the weather in San Diego – much different than what he is accustomed to.
"In Japan, the summers are very hot and the winters are very cold," he said. "It's very nice in San Diego. The weather is not hot or cold, it's medium. It's also a lot less dangerous here than in other American cities."
In his spare time, Matsunaga still plays the piano. He's a big fan of the Japanese band "Sekai no Owari" (End of the World), which is famous in Japan and recently announced its plans to debut internationally with an English language album currently in production and expected to be released next year.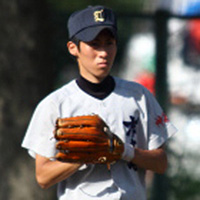 His other favorite pastime is baseball, which he played through elementary, junior high, and high school as an outfielder. While in San Diego, he attended a Major League Baseball game between the San Diego Padres and the Boston Red Sox at Petco Park downtown.
"It was very interesting," he said. "The stadium is much bigger than the ones in Japan. The players are very powerful. They hit home runs very easily."
By coming to San Diego and the ALI, Matsunaga has certainly hit a home run in his life.