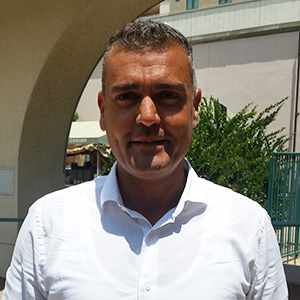 San Diego State University's American Language Institute (ALI) is part of SDSU Global Campus, whose motto is "Never Stop Learning."
ALI student Fadi Sassine is a perfect example of the slogan.
At age 37, the Lebanon native came to ALI a month ago to improve his strategic digital and internet skills through the International Business English (IBE) program.
"I came here for the essence," Sassine said. "You should never stop learning."
Sassine studied business and economics at Lebanese University. He spent the next 14 years in Kuwait, five years in the banking industry and nine as a advertising director for the BBDO Advertising Agency.
He had vacationed in California two years ago and thought San Diego would be a perfect place to study.
"We lacked digital and internet skills in the Middle East," Sassine said. "I decided to resign and go study English to improve my content and writing skills in parallel with the technical. I needed to write English every minute. I wanted to improve myself, which is what I believe in."
He discovered SDSU and the ALI through a Google search.
"I like the entire family of SDSU," he said. "You can go to the pool, watch kids play basketball, play football (soccer), or go to the gymnasium. It's not only an educational institution, it's a lifestyle."
After finishing his education in San Diego, Sassine will have the option of either going back to any of the Gulf Cooperation Council (GCC) countries or Lebanon.
"As a digital marketer, there are a lot of opportunities," he said. "Generally, whatever you learn and bring from the West can be an added value to any local or international corporate place.
Sassine said he really enjoys the mild weather in San Diego compared to the "microwave" of Kuwait. He also likes American food such as hot dogs, hamburgers, french fries, ice cream, and chocolate.
Most of all, he's happy to be learning skills necessary to the higher-management level.
"You should always learn and improve yourself, regardless of your age," he said. "Life can change quickly."