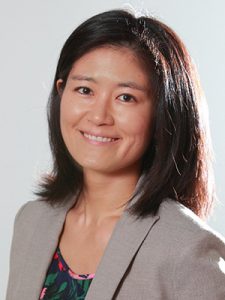 As the English for Academic Purposes (EAP) program director at SDSU's American Language Institute, Mariko Poupard is used to managing many different subjects.
It has long been a lifestyle for Mariko, who once had the job of organizing professional interpreters for conferences and events in Japan, the United States, Europe, and Australia. One of the major events she helped deliver was a G8 meeting in 2008. She was part of a team that organized a group of interpreters who served at one of the G8 conferences held in Japan that year.
"It was very intense," she said. "It truly took a team effort. It was really satisfying to see the event happen after organizing it for so long."
Mariko, who was born in Nagasaki, Japan, has always seen the world from a multi-cultural perspective. Her father worked in international sales, moved the family to the United States when Mariko was two years old, then went back to Japan by the time Mariko was in kindergarten.
Her family remained in Japan until she was in 11th grade. They then moved to Irvine, Calif., where Mariko spent her last two prep years at University High School.
From there, Mariko went on to study linguistics/psychology at the University of Southern California. After graduation, she returned to Japan for 4 1/2 years to gain work experience.
Her first job in Japan was as a daily financial newspaper reporter, covering commodity futures while specializing in crude oil and metals. Next came her job of arranging interpreters for events such as the G8 Summit.
Mariko came back to the United States as a linguistics major in her master's degree program at SDSU. She also obtained an advanced TESL/TEFL (Teaching English as a Second Language/Teaching English as a Foreign Language) certificate from her graduate program during that time.
One month after earning her master's, Mariko was teaching in the International Business English (IBE) and EAP programs. She has since taught in Pre-MBA/Pre-Master's, Intensive English for Communication (IEC), and teacher training programs, and wrote and taught the initial curriculum for the Social Entrepreneurship (SE) program that started last year.
"From the very beginning at ALI, I liked the variety," Mariko said. "That's what got me here. People came to me with opportunities. Out of grad school, you don't want to say no. I kept saying yes."
Early on, she was offered – and accepted – the responsibility of coordinating the EAP TOEFL/IELTS test prep classes early on. "That gave me a little management experience," she said. "I felt really welcomed."
Mariko became the ALI's program director for EAP last summer when the former director's family moved to the Washington, D.C. area.
Mariko and her husband have a one-year-old son.
"The rest of my family is in Japan," she said. "I am really grateful for the choices I've made and that my family supports me."
Her second family, the ALI, is also very happy to have her.