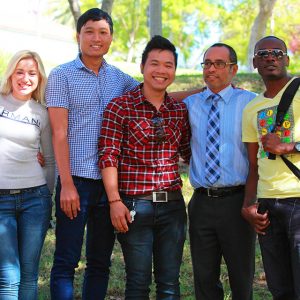 The Pre-MBA/Pre-Master's program at SDSU's American Language Institute (ALI) offers preparation for international students who want to pursue an MBA or other master's degree from a U.S. university.
The program provides a variety of academic classes including preparation for the GRE (Graduate Record Examination), GMAT (Graduate Management Admission Test), TOEFL (Test of English as a Foreign Language), and IELTS (International English Language Testing System). Most universities will require either the GRE or GMAT and either the TOEFL or IELTS for admission to a graduate program.
Through ALI classes, students develop academic expertise in advanced levels of writing, reading, research, critical thinking, and communication. The Pre-MBA/Pre-Master's program also offers classes on topics such as resume writing, admissions essays, and interview techniques. The ALI assists students with all aspects of the graduate school application process.
Through personalized and group advising, the ALI staff supports and guides students on academic matters, career goals, university selection, and the graduate school application process in its entirety.
"Our primary goal is to assist and support students leading up to the graduate application process," said Frank Herrera, program director for the ALI's Pre-MBA and Pre-Master's program. "We focus on simplifying and demystifying what is expected of our graduate-bound students so that they have the confidence to succeed in graduate school. In addition to academic preparation, we also teach students the application process not only for SDSU but also for other universities. We work to cover the whole package."
Students consistently praise the program, teachers, and advisors.
"The teachers and advisors are awesome," said Albert Jorissen from Germany. "They are very helpful."
Maria Sol Arteaga from Ecuador added, "The Pre-MBA program is an amazing program in which you will learn how to get rid of your fears about the GMAT exam. Here, you learn how to build your skills in work teams with international students and you feel at home while you are learning."
The reasons students come to the program are as varied as their backgrounds:
"I want to enroll in an MBA program, and after completing that, I want to start my own business," said Zabella Demirtshyan from Russia. "I want to create an international marketing agency in Moscow."
Oleksandr Iakovenko from the Ukraine worked as a manager in the airline business before enrolling in the Pre-MBA program with hopes of one day obtaining his business MBA.
"After years of working, I realized that I needed more knowledge for my career," he said. "I researched information on the Internet and found that the ALI Pre-MBA/Pre-Master's program is among the best in the United States. That's why I came here."
His story is similar to those of many other students who have discovered the ALI as their path to success in understanding American academic culture and enrolling in U.S. university graduate programs.