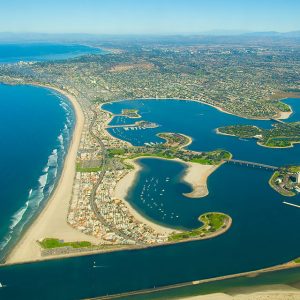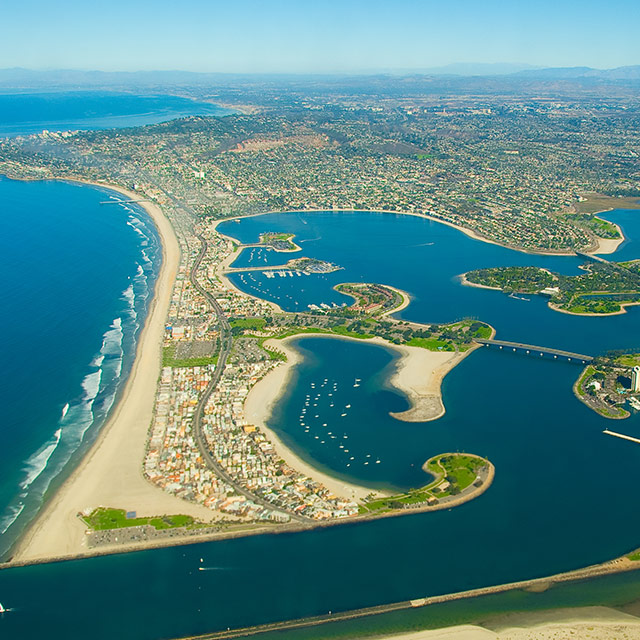 Mission Bay Park is the largest park of its kind in the world. The 4,600-acre aquatic playground is surrounded by 27 miles of shoreline, with a variety of waterways, inlets and islets to explore.

Located just west of Mission Bay is Mission Beach, whose attractions include the historic amusement park Belmont Park in South Mission Beach. Belmont Park, built in 1925, it now features the original wooden Giant Dipper Roller Coaster as well as newer rides such as the FlowRider at Wave House, Chaos, Vertical Plunge, Krazy Kars, Tilt-a-Whirl, Liberty Carousel, Crazy Submarine, The Beach Blaster, and The Chaos.
In the area, visitors can enjoy water sports activities of many kinds, from laid-back sailing outings to action-packed kite surfing. On land, families can picnic, barbecue or celebrate with bonfires right next to the water.
Events in Mission Bay/Mission Beach
Ongoing Events

Mission Beach Whale Watching Trips
May through November brings warmer waters and the opportunity to view blue whales to 80 feet, finback whales, huge pods of dolphin that number in the thousands, seals, killer whales, sharks, and many other marine creatures. Local piers offer numerous trips during this time.
San Diego Concerts and Shows on Mission Beach
The Wavehouse Mission Beach is a popular concert venue that regularly hosts some of the best local musicians in San Diego. Guests can enjoy great live music in San Diego on a nightly basis at this top San Diego nightclub in Mission Beach.
SeaWorld
SeaWorld is bringing new entertainment and festive shows to the park. The park features sea lion and dolphin shows, and zoological displays featuring various other marine animals.

San Diego Bayfair
In September Hydroplanes and boats take over the calm waters of Mission Bay for a weekend of exhilarating boat races. More than just a speed zone, the San Diego Bayfair 2014 transforms Mission Bay into a fun zone for the entire family with live entertainment and activities for kids.
Pacific Islander Festival
This is one of the largest Pacific Islander events to be held on the West Coast every September with over 100,000 people in attendance. In its 20th year, the San Diego Pacific Islander Festival location will be at beautiful Mission Bay, Ski Beach. The dedicated committee of PIFA has once again excelled at planning for its Pacific Islander families and friends by providing options for discounted lodging. It's always a great time for a reunion.

Mission Bay Parade of Lights
A spectacular December holiday light show with Southern California flair. More than 100 boats and yachts decorated with lights sail through Mission Bay starting at the Quivira Basin, gliding along the edge of the Paradise Point island, and ending with a fantastic fireworks show.
Thousands of San Diego residents line the shores of Mission Bay for the parade, but you can enjoy this special San Diego winter holiday event.
Other fun events in Mission Beach that promote an active lifestyle include the San Diego Crew Classic in April, as well as the Jack in the Box Hoops Tournament at Mission Beach in May.
Restaurants & Entertainment Venues