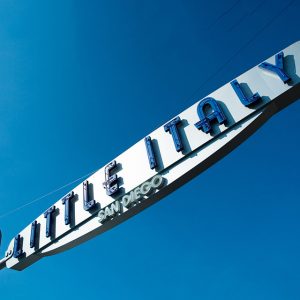 San Diego's Little Italy is an ethnic dining, arts, business and residential community and has been in existence since the 1920s. Little Italy today represents downtown San Diego's oldest continuous neighborhood business district. At one time, more than 6,000 Italian families lived in Little Italy and toiled to build San Diego into the center of the world's tuna industry.
With the decline of the tuna industry on the West Coast and the building of local freeways, Little Italy saw a decline during the later parts of the 20th century. In the early 1990s, established property owners and family-run business owners decided to take their fate into their own hands and have revived the neighborhood into a charming and vibrant destination for visitors, tourists, and those wishing to live near downtown.
Today Little Italy is a model urban neighborhood in the city of San Diego; with new Italian American and non-Italian business owners alike maintaining and opening retail and professional spaces. Creative builders and architects have and are continually building beautiful new developments and the local redevelopment agency (CCDC) has funded more than $3 million in street improvements on the main commercial corridor, India street; with more improvements planned for the near future. Additionally, many restaurants can be found in Little Italy, see list below.
Events in Little Italy

Mercato: Little Italy's Farmers' Market
Date Street comes alive every Saturday, rain or shine, from 8 am-2 pm with fresh produce, organic produce, various meats, flowers, home accessories, gifts and more. This farmers' market models itself after several other successful City Markets from all over the world.


Kettner Nights in Little Italy North
Held the second Friday of every month from 6 pm to 9 pm; Kettner Nights in Little Italy North has become the place to be for the arts and design crowds. In Little Italy North; the art has as much flavor as the espresso or a tantalizing marinara. The Art and Design District of San Diego's Little Italy was modeled after New York City's trendy SoHo and Chelsea districts; offering art-lovers and design patrons diverse resources. Come explore this ever-growing distinctive neighborhood with a walk filled with art, design, antiques, food and cocktails on Kettner Boulevard and India Street from W. Grape to W. Laurel Streets.
ArtWalk @ Little Italy
ArtWalk @ Little Italy presents the San Diego/Tijuana region's biggest art event for an audience of over 90,000. This free visual and performing art celebration is set along a scenic path through the charming neighborhood of Little Italy. It will be held on the side streets of India Street from 11 am – 6 pm both days. For more information visit, artwalksandiego.org.

Taste of Little Italy
Come to hip and historic Little Italy, where traditional Italian restaurants rub shoulders with eclectic eateries. Taste of Little Italy gives you an opportunity to discover the palette of dining possibilities as you enjoy samples offered by Little Italy's restaurants. Appetizers, desserts and specialty beverages will be offered as you stroll through the district's tree-lined streets. This event goes from 5 to 9 pm. Visit tasteoflittleitalysd.com for more information.

Annual Little Italy FESTA!
Little Italy Association is proud to make the Little Italy District come alive. Come and enjoy over 180 Italian food & craft booths, three stages of entertainment, Gesso Italiano (Italian chalk): Little Italy's chalk painting event, a stickball tournament and a beer & wine garden. Load up the family, friends & pets and come to the Largest Italian Festival on the West Coast. This event is held on India Street between Ash and Grape Streets from 10 am-6 pm. Visit littleitalysd.com for more information.
Trick-or-Treat on India Street
Bring the little ghouls and goblins down to San Diego's Little Italy for a family-fun and safe trick-or-treating experience. Pick-up you map of participating businesses at the Piazza Basilone (India & Fir Streets), between 5:30 pm and 7:30 pm, and have your bags filled with candy.
Annual Little Italy Tree Lighting & Christmas Village
The Little Italy Association is proud to present the kick-off to its annual holiday shopping, dining and pampering season with the annual Little Italy Tree Lighting & Christmas Village held at the Piazza Natale on the corner of India & W. Date Streets from 4 to 8 pm. Come one and all; family, friends and pets are welcome. So join us for an evening of music, memories, free Italian cookies, cider & coffee, shopping and more! Don't forget there will be vendors selling holiday gifts to get the season started off right.
Restaurants & Entertainment Venues
Anthology
Buon Appetito
Burger Lounge
Craft & Commerce
Davanti Enoteca
Denny's
Filippi's Pizza Grotto
Fresh MXN Food by Santana's
Glass Door
Indigo Grill
Little Italy Spaghetteria
Mona Lisa Italian Restaurant
Petrini's
Po Pazzo
Puerto La Boca Argentinian Restaurant
Vincenzo Ristorante Italiano