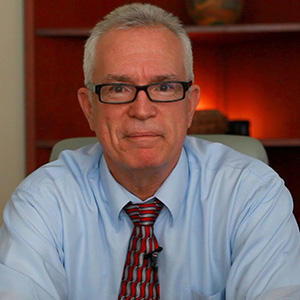 More than three decades ago, Van Hillier heard about how well friends had been doing teaching English as a Second Language, and he chose to give it a try.
He went back to school and received a master's degree in language education from Rutgers University.
Shortly after receiving his master's, he saw a small advertisement in The New York Times for a job in Saudi Arabia. He flew to Houston for an interview and was hired on the spot. Next, he and his family spent two years living and teaching in Saudi Arabia for the Ministry of Finance.
From there, the Los Angeles native came back to seek a job in San Diego, where he had earned an undergraduate degree in microbiology at UC San Diego. He was hired shortly afterwards by SDSU's American Language Institute (ALI), where he has worked the last 30-plus years and is now the Senior Director of New Initiatives.
Along the way, in addition to Saudi Arabia, Hillier has taught English as a Second Language and taught prospective and experienced teachers in Japan, Jordan, Brazil, Switzerland, Taiwan, and South Korea.
"I appreciate how my career has allowed me to learn from people from all over the world," he said.
Within the ALI, he has worked in the following roles:
— Teacher: "I appreciate the challenge of helping students develop their language skills."
— Teacher Trainer: "I enjoy helping people develop the professional skills to teach English."
— Marketer: "I have appreciated the opportunity to show the quality of ALI programs to potential students."
— Program Developer: "I enjoy developing programs that meet the needs of international students."
"I've worked with some great people here at the American Language Institute. In addition, both directly and indirectly, I have enjoyed working with thousands of great students," Hillier concluded. "It's good work."