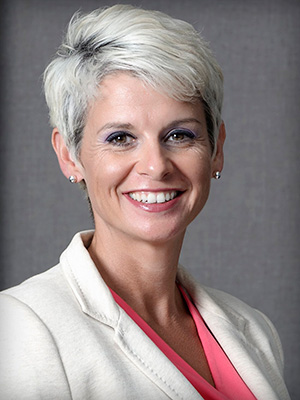 Born into a military family while stationed in Australia, Johanna Gleason has seen much of the world as the daughter of a Navy commander.
She's also lived in the Philippines, Italy, and Japan before her family settled at the Naval Academy in Annapolis, Md. when she was 12 years old.
"It was really fun to live in a foreign country, explore, and meet people from different places," said Gleason, who has worked for SDSU's American Language Institute since 2007. "That's why I work in international education."
She began college at State University of New York (SUNY) Binghamton, transferring to the University of Oklahoma (OU) to major in English.
After Oklahoma, Gleason moved to San Francisco to study TESL/TEFL in a four-week intensive program, hoping that her interest in Spanish would lead to a job in South America. But she met a group in San Francisco that had taught in Prague, convincing her to obtain a teaching job in the Czech Republic capital.
What a great decision that turned out to be. While teaching onsite courses for 1 ½ years at the Ministry of Agriculture and a commercial bank, among other places, she met a man who would become her husband and father of her three children.
They moved from the Czech Republic to England for two years before coming back to Oklahoma. There, Gleason earned her master's degree in TESOL at Oklahoma City University while also teaching English as a Second Language.
The family's next stop was back in England, where her husband earned a doctorate in literature at Oxford University. Gleason was a school administrator while there.
They moved back to Oklahoma, where her husband had a one-year lectureship. The family moved permanently to San Diego in 2006 when her husband accepted a job teaching English and comparative literature at SDSU.
Gleason was hired by ALI one year later as an academic advisor and ESL teacher.
"The best part was working with international students and learning about their culture," she said. "It was incredibly rewarding to see them get into university. Even if it was not SDSU, I would help with a back-up plan. When God closes one door, he opens another."
Numerous doors have been opened for Gleason at ALI. She has taught English in the pre-MBA program, English for Academic Purposes (EAP), and in the Fulbright Pre-Academic Program.
Each of these jobs led to her current administrative position for the past 4 ½ years, where she became Semester at SDSU director in February 2012, EAP director in August 2012, and moved into her current role as senior director of academic programs in July 2013.
"The ALI has offered me huge opportunities for professional growth," she said. "My mind always feels engaged. Education makes the world a better place."