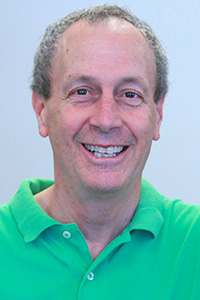 has always been adept at juggling. While studying for his master's degree at San Diego State University, he also worked for SDSU's American Language Institute (ALI) as a facilitator and teacher. Nowadays, he balances his time between the ALI and teaching English at San Diego City College.
But that's not the only juggling Gardella has done. From 1982-87, he was in the Guinness Book of World Records for having the fastest five-kilometer time in joggling (juggling bean bags while running).
"I could always juggle very well," Gardella said. "My dad could do it. When I was eight years old, I tried it and was able to juggle two balls 30 minutes later."
After watching a juggler on the Ed Sullivan television show, Gardella went into his room and increased his juggling skills to three balls. He eventually was able to juggle seven balls, and can still do as many as five.
Gardella has always been athletically-inclined. The Pasadena, Calif. native played baseball at Pasadena High School and dreamed of either playing professional baseball or teaching English.
After high school, he concentrated on academics at SDSU, earning his bachelor's degree in sociology. While working on his master's degree in English literature, he began working at the ALI as a facilitator in 1977.
Gardella has been on the ALI staff for 36 of the past 39 years, leaving from 1987-90 to teach English in Japan.
"I always liked to read and write, so I wanted to be an English teacher if I didn't play baseball," he said.
With the ALI, Gardella has primarily taught English for Academic Purposes (EAP) and Intensive English for Communication (IEC).
"I love it here," he said. "I love teaching students who come from all over the world. I'm also in the same office room with teachers and staff who are my friends. I talk to them and do things away from school such as hiking and going to restaurants."
Gardella also teaches up to three classes per semester at San Diego City College.
"The students are completely different at (San Diego) City," he said. "They are often poor  immigrants. It's a pleasure to help them become good at listening, reading, and writing, and to become inspired to be good students."
Gardella and his wife, happily married 28 years, have two sons who are excellent students.
The eldest, age 27, is earning his Ph.D. in community research at Vanderbilt University, already presenting at conferences in Washington D. C. and around the U.S. The youngest, age 23, is a research fellow at Boston University researching climate change.
Gardella attributes the success of their sons to his wife.
"She's very special," he said. "She was one of the head secretaries of General Electric's Far East Audio Electronics Department in Japan at age 21. She's very organized and hard-working. After our children went to college, she earned her credentials to become a pre-school teacher in the U.S. and also hosts students from all over the world at our home."
The "special" title also goes for her husband during his nearly four decades with SDSU's ALI.