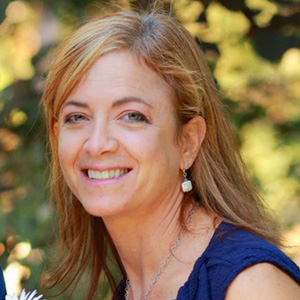 From the time Amy Friedman was a little girl, she enjoyed teaching others.
She used to put her toys together, tell others what the toys were about, and answer any questions.
"I have always wanted to be a teacher," said Friedman, now an instructor and coordinator in the English for Academic Purposes (EAP) program at SDSU's American Language Institute.
The EAP program offers English instruction in all levels from beginning to advanced. Students take placement tests in different skill areas (listening, speaking, reading, and writing) to determine their English level and are placed according to their varied needs and abilities.
Friedman works with students at the beginning level.
"Our students are very, very important," she said. "They are young, vibrant, and anxious. My biggest asset is that I've been teaching for so many years. I feel very confident as a teacher now."
After graduating from Thomas Jefferson High School in Denver, Friedman prepared for her career by majoring in elementary education and music at the University of Puget Sound in Tacoma, Washington.
After college, she taught English as a Second Language (ESL) in Japan. Friedman came back to the U.S, teaching kindergarten for two years in Reno, Nevada. "It was quite stressful, but I did it," she said with a smile.
From Reno, she moved to Fallbrook, California to house-sit for her mother-in-law. After that, it was back to Japan for three years of teaching.
"It was adventurous and enriching in Japan," Friedman said. "It was so interesting and different from what I was used to. I really liked the food, people, and culture."
After teaching in Japan, Friedman returned to the back country living at El Capitan High School in Lakeside, California, where she served as curriculum director for one year. Her next job was in ESL at the International House in San Diego's Old Town for three years.
For the next 10 years, Friedman taught ESL Level 3 at Mid-City Center in the San Diego Community College District. She joined ALI in 2011.
"I love my co-workers and really like working on campus," Friedman said. "I feel like part of the whole community at SDSU. I'm more connected here than to my alma mater."
Away from campus, her number one hobby is coloring. Her second favorite hobby is athletics, as she has competed in 14 marathons and one Ironman Triathlon event, which is a series of long-distance races consisting of a 2.4-mile (3.86 kilometers) swim, a 112-mile (180.25 kilometers) bicycle ride, and a marathon 26.22-mile (42.20 kilometer) run.
"The Ironman is easier than a marathon because you go from sport to sport instead of just doing one thing (running)," Friedman said. "You get out of the river in the Ironman, then you go to the transition room to change into your bike clothes. Then, you change into your running clothes. It was amazing."
Just like her career has been at the ALI.