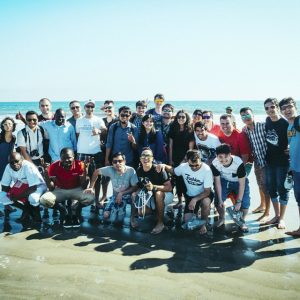 San Diego State University's American Language Institute (ALI) is honored to host a program for foreign Fulbright students representing 20 countries/territories from August 3-21.
"Over 120 universities nationwide submitted proposals, of which 60 were considered, and a mere nine were selected to participate, so we are a part of an elite group," said Barbara Bass, executive director of the ALI.
This three-week pre-academic program is offered to incoming Fulbright foreign students. It is sponsored by the U.S. Department of State's Bureau of Educational and Cultural Affairs as part of its Fulbright Program, the U.S. government's flagship international exchange program supported by the people of the United States and partner countries around the world. For more information, visit fulbright.state.gov.
This program is designed to cover an orientation to the U.S. academic system and culture, English language training, and field-of-study preparation. The program is also aimed at building a basic understanding of current issues in U.S. society and a solid foundation of U.S. social values, both of which are necessary for successful intercultural communication in the participants' host communities. This pre-academic Fulbright program serves the overall goal of the Fulbright Program: to increase mutual understanding between the people of the United States and the people of other countries.
"The program aims to provide participants with English language training and a basic understanding of current U.S. societal values and norms," said Joe Shapiro, dean of SDSU's College of Extended Studies. "It is also meant to provide participants a sense of what American life is really like, beyond the books and lectures they experience in the classroom, and beyond how the media in their home country may have portrayed life to be like in the United States."
The Fulbright students will participate in English language enrichment classes consisting of speaking, listening, and writing taught by ALI instructors, including Ann Johns, professor emerita and one of the founders of the ALI. Additionally, esteemed SDSU faculty will lecture on topics such as the U.S. economy, cultural diversity, and the role of the media in our country.
Alda Blanco, chair, department of Spanish and Portuguese and SDSU campus Fulbright advisor; and Eniko Csomay, associate dean, College of Arts and Letters and president of the Fulbright Association's San Diego Chapter will welcome and lecture to the students as well. The program will also have Mayor Mary Sessom of Lemon Grove as a guest lecturer in a course concerning American politics.
The students are from countries/territories including Brazil, Thailand, Mexico, Germany, Turkey, Peru, Uruguay, Cameroon, Gaza, Uganda, Afghanistan, Pakistan, Panama, Vietnam, India, Colombia, Indonesia, Japan, Azerbaijan, and Morocco housed together in an off-campus living arrangement, which helps them bond in their shared experiences. The students will also spend a weekend with an American family, allowing them to experience the American lifestyle first-hand.
"The opportunity to be involved with this program, meet the students as well as the wonderful professors who will be working with us is a privilege," said Theresa Perales, ALI's Fulbright pre-academic coordinator.
For more information on the Fulbright pre-academic program at SDSU, contact Perales at tperales@sdsu.edu.