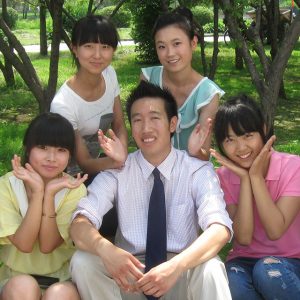 Editor's note: The ALI will be updating its student profiles to let you know what some of our former students are doing today. Here is the original blog on Alan Ng posted Feb. 13, 2014, along with a look at his current status.
Alan Ng decided to enroll in the TESL/TEFL program at the ALI because he wanted certification and to become more qualified to teach English abroad. He chose SDSU because of its excellence as a university, close proximity to his home, and the opportunity to learn from real professors in a classroom setting.
Before studying at SDSU, Ng held a number of varied and interesting jobs – security guard (he was the guy in the red polo short who inspected your bag at Petco Park, Qualcomm Stadium, and Comic-Con), YMCA summer camp counselor, Target backroom associate, dining host at Sea World, and clinician.
As much as he enjoyed his numerous positions, he wanted to travel abroad and teach. Ng's most recent jobs have been teaching positions in China. He spent the last two years working at Jilin Medical College in Jilin City as the foreign expert teaching oral, writing, and reading classes to medical majors of all kinds. He currently teaches English at Dalian Maritime University in Dalian, China.
UPDATE ON ALAN
How long did you teach in China?
I taught in China for three years from 2011-2014. The first two years I worked at a medical school in Jilin City called Jilin Medical College, which is located in the northeast part of China. My final year I moved to a university called Dalian Maritime University which is more towards the south and located in Liaoning province.
What was it like teaching there?
Teaching in China was amazing, eye-opening, and a lot of fun. For me, it was a time of personal growth, professional development, and career discernment. The Chinese students I had were a joy to work with and they really find foreigners fascinating. I worked with nursing students, pre-med, pharmaceutical, and other medically-related majors my first two years. In my third year, I moved to Dalian Maritime University and taught naval majors (similar to individuals at an American officer candidate school) in addition to engineering, law, and business students.
Many of the teachers commented on my teaching ability, and students consistently gave me high satisfactory scores on the teacher surveys at the end of the year. I owe all of my teaching success to the training and formation I received from ALI's TESL/TEFL certification program. In addition to developing my skills as an educator, I was also able to learn Mandarin Chinese (I am conversationally fluent now, and before I was not), make great friends, and travel all throughout Asia for cheap.
Whenever you work for Chinese universities, most of the time they will subsidize your airfare, housing, and pay an above-average salary. Foreigners can live quite comfortably outside of America, and China is no exception.
When did you return to America, and what have you been doing since then?
I returned to America last July. After three years of working in China, I discovered that teaching was a good fit for my personality, skill set, and educational background. I attended a liberal arts college in Virginia and majored in philosophy. Having attended such an institution, I received a broad-based education with a strong emphasis in reading, writing and analytical thinking, which helped me immensely when trying out the teacher role.
I applied to SDSU's Master of Arts program in Applied Linguistics and was accepted. I am now working on my graduate degree at San Diego State and am deepening my professional knowledge of all things TESOL related. I have also begun working as a teaching associate for the Linguistics department and am teaching LING 94 to international students.
What do you hope to do when you complete your linguistics graduate program?
After completing my linguistics graduate program, I may leave America and try working abroad for a year in Asia and see what life is like with an advanced degree. I may also try finding a job at a community college or seek employment at a private language institution. Or I may try my hand at applying for a Fulbright Scholarship and conduct research overseas. I'm not quite sure at this point.
How much of a factor has the TESL/TEFL program been in your life?
The TESL/TEFL program was a huge factor in my life! The four-week program I took gave me the tools I needed as an absolute beginner to be a successful ESL teacher with no prior experience whatsoever.
Van Hillier, Mark Tannenhaus, Jason Greeno, Kenneth Levin, and the other fine teachers helped me out a lot with their differing perspectives and approaches toward teaching. I actually "stole" or utilized many of their activities for my own classes in China, with great success.
Do you continue to stay in touch with any of your former classmates or the staff at ALI?
Yes, I do stay in touch with staff and friends from the ALI. Granted, I haven't been to the ALI for quite some time now, but I do drop in now and then to say hi to my old mentors.
Van was especially awesome during my years in China. Many times, I had some class dilemmas or problems that I did not know how to solve, so I e-mailed Van for his sage advice. He always provided me with great ideas or solutions to problems I had, and my students were better off because of it.
Anything else you would like to add?
Living and working abroad is a fantastic experience, especially if one has the curiosity or desire to see what life is like outside of America. I highly recommend giving teaching a try for recently-graduated college students who may have no idea what they want to do with their lives, or middle-aged professionals who would like to switch careers and try something new.
I have personally encountered lawyers, graphic designers, venture capitalists, and business consultants who have entered the ESL/EFL profession because they wanted a change, and they found the work satisfying and meaningful. (My venture capitalist friend was so successful that he was able to retire at the age of 28, but got bored in his "retirement" and tried teaching ESL. He fell in love with it and has been doing it ever since.)
It is really a unique experience to work with multiple nationalities in one classroom. Case in point: My LING 94 class at SDSU has students from Denmark, Thailand, India, China, Kuwait, and Saudi Arabia all packed in one room. The kinds of discussions and insights that arise from a multi-cultural classroom are always enriching to hear. If any of this sounds attractive, then ALI's TESL/TEFL certificate program is an excellent way to begin your journey into the wonderful world of ESL.